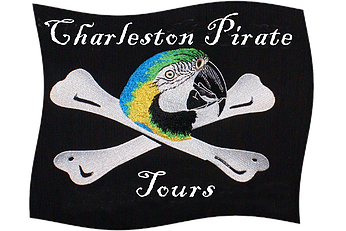 Charleston Pirate Tours
Treasure Hunt
Biography
Eric and Sabrina Lavender, accompanied by their trusty companion parrots, lead you through the French Quarter and along the waterfront, exploring the oldest sections of the city and the Golden Age of Piracy.
A master storyteller, Eric doesn't just quote the facts and dates.  You'll feel like you're right in the middle of the action, as he shares the stories of Blackbeard, Stede Bonnet, Charles Vane, Calico Jack Rackham, Anne Bonny, and Mary Read, along with the fascinating, true facts of pirate life.
You'll be surprised at how many of today's common sayings have piratical roots.  We can't say more, or we'd "let the cat out of the bag!"   This 2-hour walking tour will make you want to "go on account" and join the sweet trade.
All session by Charleston Pirate Tours